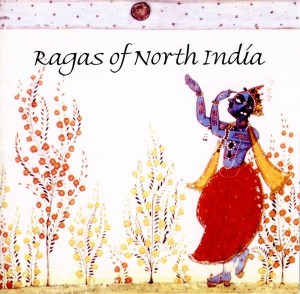 Steve Oda (sarode)
Michael Lewis (tabla)
Pushpa Oda (tanpura)
On a full moon night on December 16, 2005, Steve and Mike were given an opportunity to perform for the benefit of the victims from the terrible earthquake that rocked the Himalayas on October 8, 2005. This CD is a direct recording of that performance held at the Unitarian Universalist Church of Berkeley.
Raga Chandranandan
Composed by Maestro Ali Akbar Khansahib in the early 1950's, Chandranandan combines four ragas: Malkauns, Chandrakauns, Nandakauns and Kaushi Kanara. Khansahib has translated the title as Krishna and the gopis playing with the moon, with moods of compassion (Karuna), joy (Shringar) and heroic (Vir). The performance on this recording includes an invocation or meditation, called alap, in which the sarode solos, followed by rhytmic compositions or gats in slow, medium and fast time cycles of 16 beats, or tintal.
Raga Misra Khammaj with Ragmala
A traditional light classical raga with moods of joy and compassion is performed in rhytmic cycles of 7 (rupak tal), 10 (jhaptal) and 16 (tintal) beats. With Khammaj as the theme ragmala, or "garland of ragas", is presented to show how other ragas may be woven into the musical fabric of this light classical melody.
Contents
| Track | Title | Length | Preview |
| --- | --- | --- | --- |
| 1 | Raga Chandranandan: Alap Jor | 13:18 | |
| 2 | Raga Chandranandan: Gats in slow, medium and fast tintal (16 beats) | 23:16 | |
| 3 | Raga Misra Khammaj with Ragmala: Aochar and gats in rupak (7 beats), jhaptal (10 beats) and tintal | 33:37 | |
Purchase
This CD is available for purchase at CD Baby.