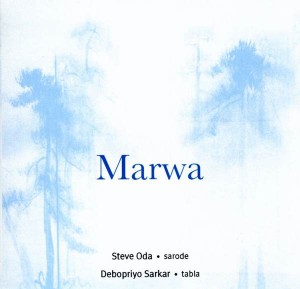 Steve Oda (sarode)
Debopryo Sarkar (tabla)
Pushpa Oda (tanpura)
Marwa
Marwa is a very difficult raga to perform particularly on the sarode since the playing of any open strings is rare or avoided entirely. With mood of compassion, strength and devotion, Marwa has a unique color that is quite strong and immediately recognizable. This raga is usually performed in the early evening.
Sindhi Bhairavi
The second short piece in raga Sindhi Bhairavi is from a beautiful light classical melody composed by Maestro Ali Akbar Khan at the Ali Akbar College of Music in 1978. This raga is traditionally performed either at the end of a classical concert or in the morning. A rhythm cycle of keherwa (8 beats) is used for this rendition.
Thanks to Inside Ohm Productions for recording this live North Indian Classical concert in Berkeley, California, March 14, 2004.
Contents
| Track | Title | Duration |
| --- | --- | --- |
| 1 | Marwa: Alap Jor | 16:09 |
| 2 | Marwa: Gats in Jhpatal(10) and Tintal(16) | 35:13 |
| 3 | Sindhi Bhairavi: Gat in Keherwa (8) | 5:04 |
Preview
2. Raga Marwa: Gats in Jhaptal and Tintal
3. Raga Sindhi Bhairavi: Gat in Keherwa
Purchase
This CD is available for purchase at CD Baby.